In the year 2021 itself, over 16 lakh students registered for NEET 2021, striving hard for just 83,075 seats in MBBS, 26,949 seats in BDS, 50,720 seats in AYUSH, and 525 in B.VSc & AH. The stiff competition that tends to increase each year calls for the correct preparation. Despite the pandemic situation, there's no reason to lag or compromise with your NEET preparation. Here's when online biology classes for NEET become the need of the hour.
NEET is the foundation of a student's medical career. It is a competitive exam that you need to clear with excellent scores to get into the top government medical colleges in India, such as AIIMS, JIPMER, etc. If you are looking forward to getting into one of such esteemed medical colleges, choose IIB – The best online classes for NEET.
IIB – The Best Online Biology Classes for NEET
IIB has been a prime NEET preparation academy shaping medical aspirants' futures since 1999. The academy specializes only in medical subjects – Physics, Chemistry, and Biology to help students excel in medical exams like NEET, 11th, and 12th boards.
With over 20 years of experience, IIB has successfully nurtured over 15,000 young medical professionals till now, making it the best NEET coaching academy in Maharashtra. The highly qualified faculty and outstanding teaching methods are the foundation of the institute's excellence.
Why choose IIB?
IIB has one of the best faculties, with most of them having teaching experience in the NEET syllabus of more than 13 years. All the teachers are highly qualified, experienced, and hard-working towards students' success. Apart from imparting knowledge, the teachers are quite supportive and provide the utmost guidance to their students in each step.
Although schools and colleges tend to be the primary source of knowledge, IIB focuses on medical subjects without compromise. The institute holds expertise in medical syllabus subjects – Physics, Chemistry, and Biology to prepare students for NEET exams, 11th & 12th boards. Apart from the basic NCERT syllabus, the curriculum focuses on a competitive exam syllabus that schools and colleges do not teach. The emphasis on medical subjects makes it a premier institute for online biology classes for NEET. In this way, it helps medical aspirants to specialize in this field.
The best way to keep an eye on your performance is to evaluate. That's right; IIB includes routine test series to help students assess their performance after each interval. The test series has questions corresponding to the NEET competitive exam to give you a gist of the exam pattern and type of questions.
Doubt solving and imparting values
Apart from preparing the students for competitive exams, IIB also focuses on providing the right guidance and values. Routine doubt-solving sessions help students cope up with any difficulties they come across in the syllabus. Knowledge coupled with studying techniques, time-management, and social values can be a potent tool for success in all life phases. Thanks to IIB's comprehensive learning experience that helps students overcome every obstacle with correct guidance.
If you want to prepare for the next NEET exam in the comfort of your home, IIB is the best place to be. Enroll in our NEET online classes for biology, physics, and chemistry to take your NEET preparation to the next level.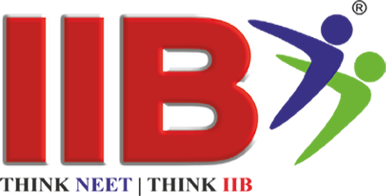 "Empowering_Nation_Through_Education"
"Think_NEET_Think_IIB"
"DigitalIndia_DigitalIIB"